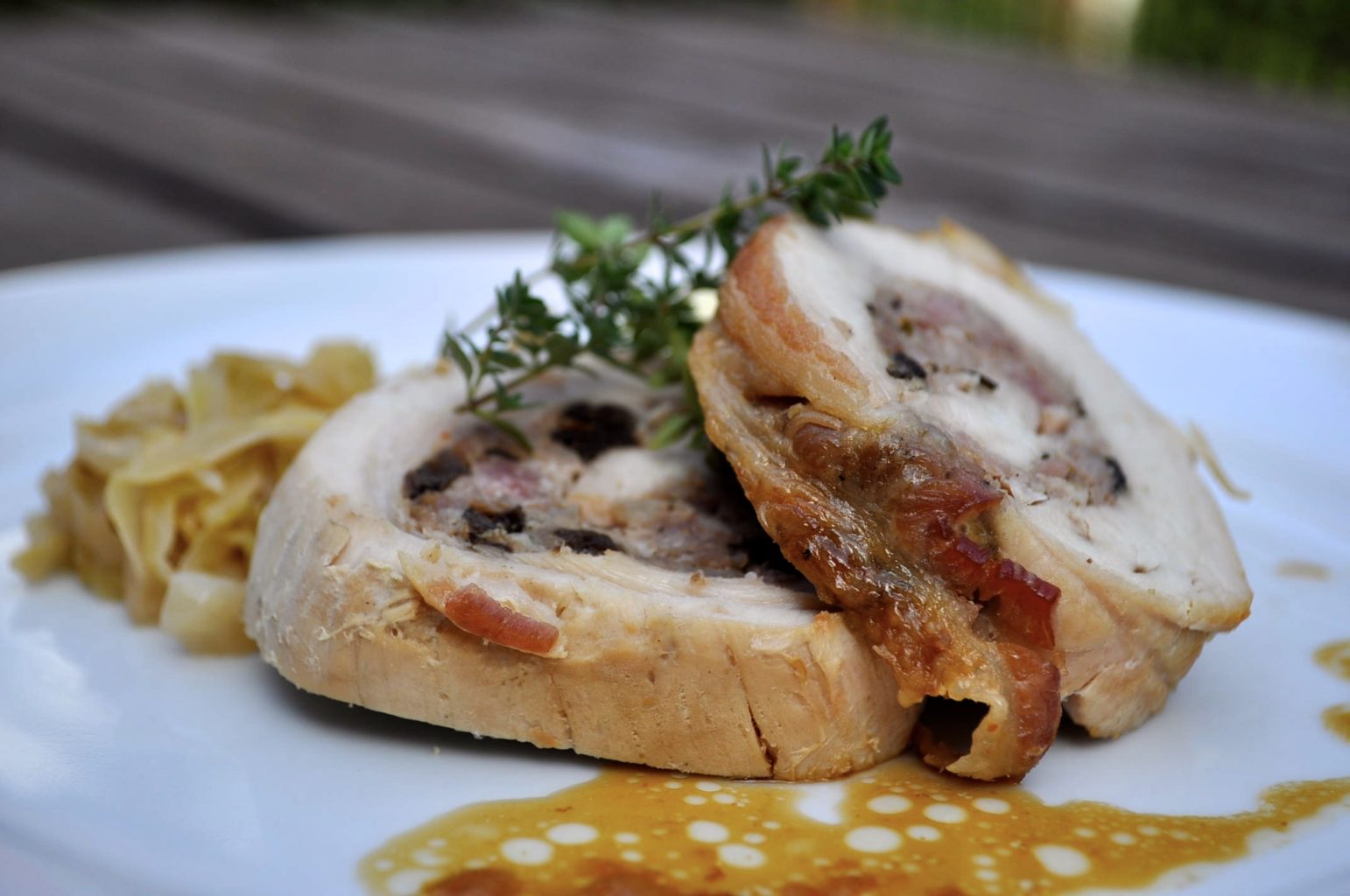 Turkey roulade
Are you tired of the big turkey or you are just a small family and don't want to eat the roasted turkey for 2 weeks? Here is my French version to enjoy a great turkey for Thanksgiving but juts for one dinner!
I just love bacon so I found great to give some smoky flavor to the turkey by wrapping the turkey breast with bacon slices.
---
INGREDIENTS for 6 to 8 people
• 4 breast tenderloin
• 1.5 Lb sweet Italian sausage
• 1 egg
• 1 sweet yellow onion
• 2 rosemary sprigs freshly chopped
• 2 tbsp of dried porcini previously soaked in hot water to rehydrate for 30
minutes, and then chopped
• 1 teaspoon 5 spices
• 2 tablespoons unsalted butter
• 2 slices bread soak in milk
• 2 tablespoons chopped parsley
• Salt and white pepper
• 2 garlic cloves minced
• 1 ½ pound thinly sliced smoked bacon
• 1 cup of white wine
• 1 cup chicken broth
---
Directions:
Preheat oven to 350 degrees. Soak the bread in the milk for 15 minutes;
strain.
Heat the oil in a sauté pan over medium heat, then add the onion, garlic, and sauté, stirring until tender, about 5 minutes. Transfer to a bowl with the soaked bread, parsley, rosemary, 5 spices, sausage, egg, dried porcini, 1 teaspoon salt, and ¼ teaspoon pepper. Knead to combine. On a flat surface.
Meanwhile, butterfly the thicker end of the breasts, folding over toward the thinner end to form a shape as close to a rectangle as possible. Cover one breast with plastic wrap, and, using a meat mallet, pound the meat to about ½ inch thick, 1 foot long, and 8 inches wide; repeat with other breasts.
Season the surface of the breasts with a sprinkling of salt and white pepper. Then spread the surface of the turkey with the stuffing evenly. Then roll tightly the turkey to make a roulade. Arrange the bacon in overlapping slices in vertical rows, on a 12-inch board, making a 12-inch-long-by-9-inch-wide rectangle. Place the turkey roulade in the center of the bacon, and wrap up and around to fully encase the breast. Tie with butcher's twine to secure. Repeat with the others breasts.
Place turkey roulades in the center, of a baking dish with the butter and then 1 cup of white wine. Bake them for 25-30 minutes turning the logs ¼-turn every 10 minutes. Then at that steps add 1 cup of chicken broth and cook again for 20 more minutes. The roulade would be ready when the internal temperature reaches 155 degrees. Remove from the oven and rest for 10 minutes. Cut the roulade into ½-inch slices. Serve hot.