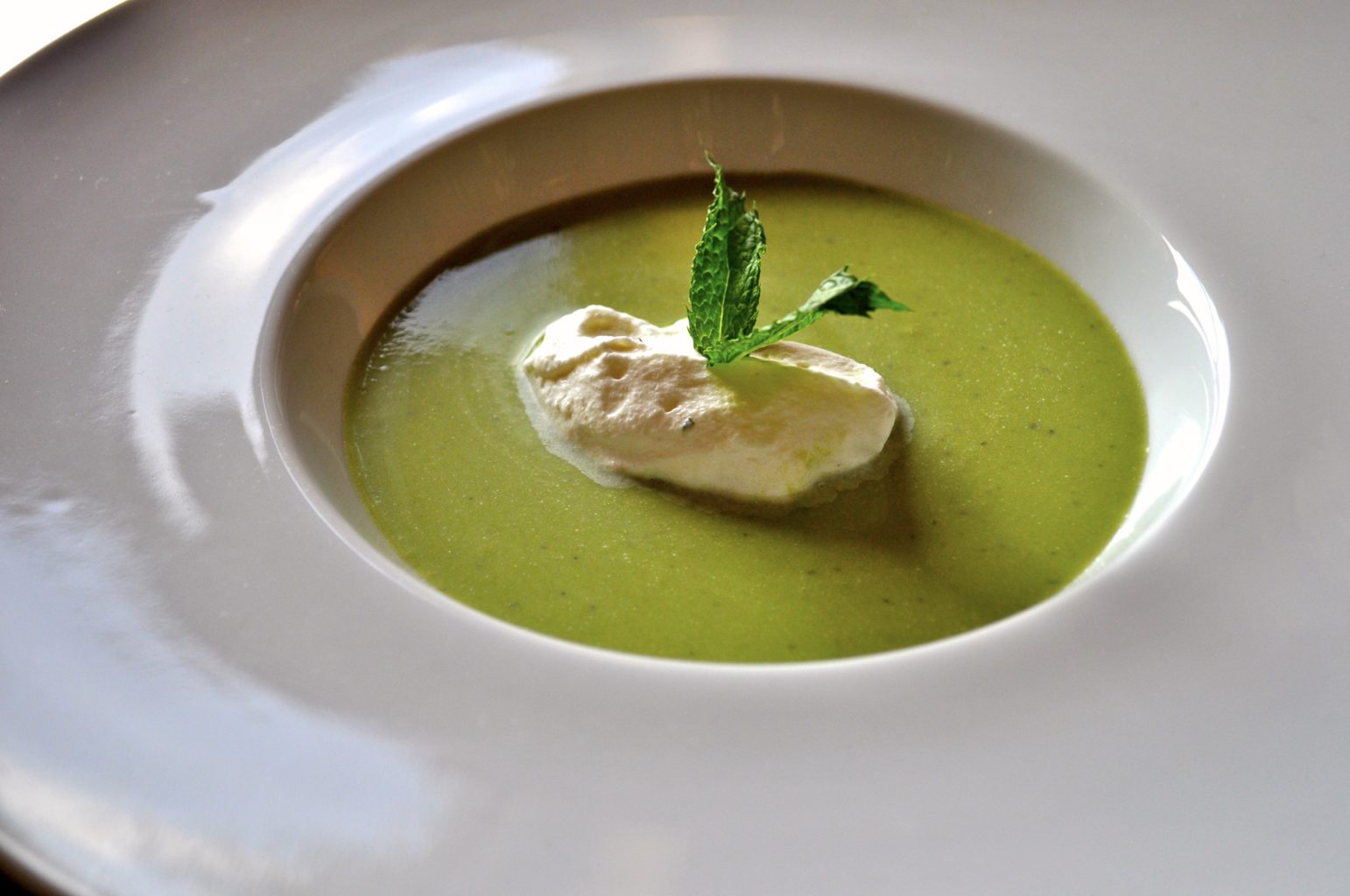 English peas and mint soup
This soup is one of my favorite appetizer during spring and summer. Spring is just the season for the" new peas". It is great to use fresh peas but during fall or winter you can definitely use frozen peas. I recommend you to make your own chicken broth but you can substitute with a good organic commercial chicken broth if you are in a hurry. Please do not use any dried mint, use just the fresh
leaves.
My signature of this dish is the topping. I've created a mint Chantilly to go with the velvet soup.
---
Ingredients for 6 PEOPLE
• 1 Lb fresh peas out of shells or frozen peas
• 2 and ¾ cups chicken broth or vegetable broth preferably homemade
• 1 medium yellow onion
• 1 tablespoon granulated sugar
• 2 tablespoons unsalted butter
• Freshly ground black pepper/ sea salt
• 15 fresh mint leaves + 8 to infuse the whipping cream
• ¼ cup Heavy whipping cream + 2 cups for the chantilly (topping)
---
In a big pot, melt the butter on medium high heat. Once it is melted add the onion sliced and sauté for about 3-5 minutes until the onion is softened. Then add the peas and stir well. Season with salt and pepper to taste. Pour the broth and cook on low heat for about 10 minutes. Then set aside.
Using a blender, mix the broth, peas and the mint together until smooth purée.
Then add the ¼ cup of heavy whipping cream and mix well until a smooth texture. Season if needed.
Pour in a big bowl cover and refrigerate for at least 3 hours.
Making the mint Chantilly:
On medium heat bring to a boil 2 cups of heavy whipping cream in a saucepan.
Then add 8 leaves of mint, cover the pan and let it cool (about ½ hour). Then pour in a bowl, cover and refrigerate at least 3 hours.
After 3 hours, strain the soup through a sieve. Now your soup is ready. Keep refrigerate until you will enjoy it!
Strain the mint cream, discard the mint leaves and then pour in a stand mixer set with the whisk attachment, season with salt and pepper and whip the cream until you get a chantilly texture.
To serve, ladle the soup in a nice bowl and then top the soup with a quenelle of the mint Chantilly. Garnish with a mint leave and serve immediately.